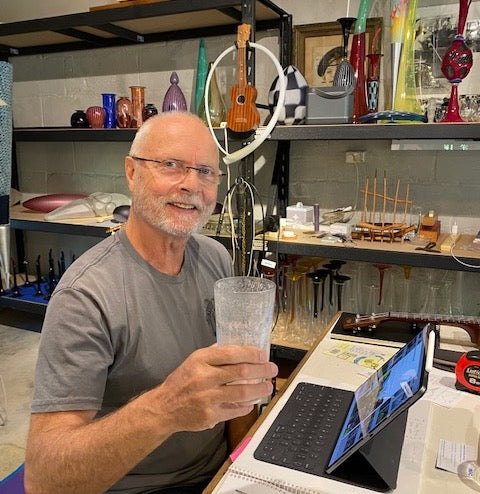 Meet Nick Mount
Nick Mount has been one of the leading figures in the Australian studio glass movement since the early 1970s. Over the subsequent decades, as both teacher and practitioner, he has made a significant contribution to the development of glass as an artistic medium in this country. Nick work is represented in major private and public collections including state galleries and the National Gallery of Australia.
About the Work
Like many artists working in hot glass, Mount draws from Venetian traditions. He was introduced to these by the American glass artist, Richard Marquis, who had worked at the renowned Venini factory in Murano in 1969, and came to Australia in the early 70s to demonstrate glassblowing. 
Composing imagined fruit-like forms in composition with "soft" geometric blown glass shapes, Mount uses traditional Venetian techniques to explore the theme of formal structure and rhythm that underpins the generosity and softness we find in nature.
The asymmetry of the "damaged goods" are presented as objects of beauty in their own right, inviting contemplation of the way in which we assign value to that which may present as being slightly less than "perfect".